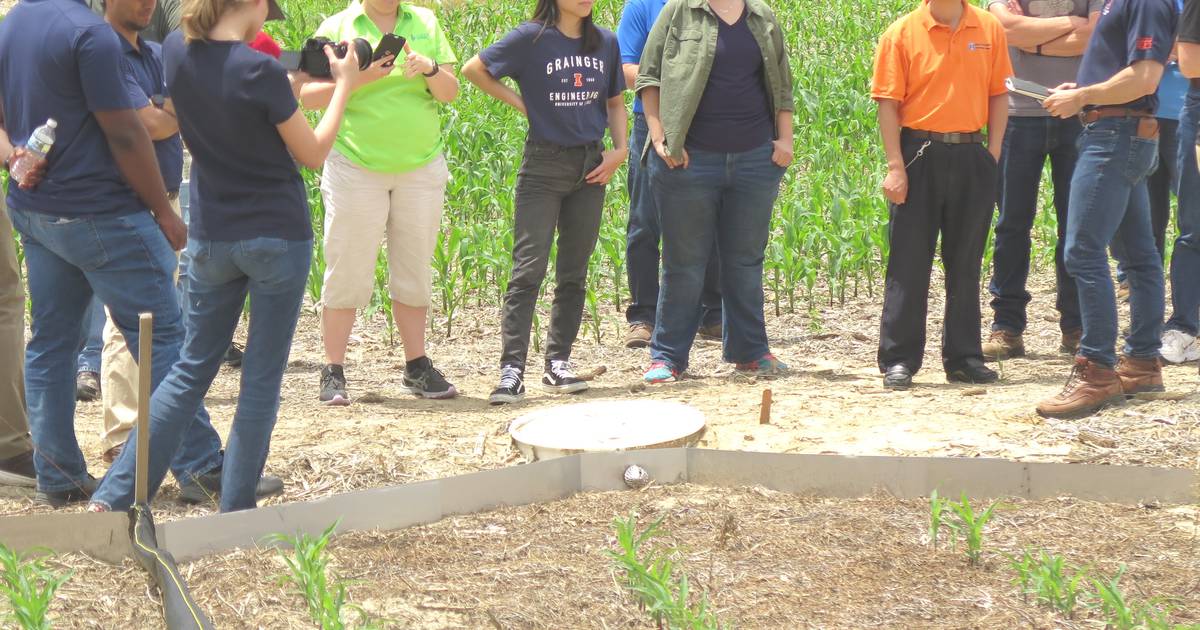 Study focuses on phosphorus loss, options – AgriNews
CUBA, Illinois – Researchers at the Metropolitan Water Reclamation District site in Fulton County are looking for answers to the amount of phosphorus lost through soil erosion and alternatives.
Andrew Margenot, professor of soil science at the University of Illinois, led a tour of the research plots as part of a nutrient stewardship field day on June 7.
"We don't have a lot of numbers on the contributions of erosion to phosphorus losses in the state. It's really hard to get good data," Margenot said.
"It's one of three sites in the state. We have a fourth in Cook County with support from the Illinois Farm Bureau and that will give us a four level comparison of the amount of soil erosion, soil phosphorus load and comparison with the monoammonium phosphate (MAP).
"We could lose, say, half a pound per acre due to MAP runoff. This is a typical number for our neighboring states. But is the erosion 2 pounds, is it 10 pounds, is it half a pound? I think it's important to have context on non-fertilizer losses to give context of what fertilizer losses are versus non-fertilizer losses. »
The trials involve multiple plots on a hill with treatments of struvite, MAP, diammonium phosphate (DAP) and a mixture of treatments. Runoff water and sediment from each plot is captured in 55 gallon drums in the ground at the foot of the hill.
"We're able to capture sediment that comes down a funnel into the bucket. We want to quantify the amount of phosphorus contained in the sediments by erosion, because obviously this is always a non-point source loss," Margenot said.
"We compare the timing of the application. We apply in the fall and spring struvite versus MAP, and mixtures of struvite and MAP.
The trials will also monitor crop yields and their relationship to nutrient losses.
"There's a second angle here, though, and that comes into what my lab is doing with the Illinois Nutrient Research and Education Council, which is what the role of erosion is, because erosion is a source not source of P losses, but it can sometimes be incorrectly counted as loss of P fertilizer from non-point sources.
Struvite
A potential strategy for reducing phosphorus losses is to use a slow-release P fertilizer in the form of struvite – magnesium ammonium phosphate – which can not only reduce nutrient losses from non-point sources such as agricultural land , but also help point sources of water treatment facilities.
The crystallization of struvite in the pipeline and its accumulation leads to significant environmental and industrial problems such as pollution problems such as eutrophication, odor formation, clogging of pipelines, equipment damage and reduction the efficiency of the process.
Adding magnesium to wastewater creates a chemical reaction that crystallizes struvite for extraction and use as a source of phosphorus in agricultural production.
The adaptation of struvite crystallization under controlled conditions not only eliminates these problems, but also allows the production of a high value-added fertilizer product.
"There's been a big move in Europe and now the US from the private sector to capitalize on capturing phosphate from point sources and then think about reusing that material as fertilizer," Margenot said.
"It's also a way for non-point sources to lead the charge on our nutrient loss reductions. The reason is that you have to do something with all that struvite. By offering these receiving fields the use of struvite, agriculture can play a role in this integrated point source and diffuse source partnership.
"What we do as soil scientists is try to figure out how much struvite we can use. Can we completely replace MAP or DAP with struvite while maintaining yields and hoping for reduced losses? »
Struvite is 3% water soluble compared to MAP or DAP which are 90% water soluble.
"It doesn't dissolve. So if you apply it to the surface, there should be minimal dissolution of these nutrients. But there is also a tension because if it is too insoluble, the plant cannot access it in time, especially in the early stage of crop growth like V6-V9 for corn," Margenot said.
"So this tension could present a trade-off and what we are doing with the support of NREC is to quantify the right ratio of struvite to use to support crop yields, to enable recycling of phosphate from point sources, but also to avoid any loss of performance.
"What we found through working with Dave Isermann in La Salle County is that there was no real difference in yield during the two years we did the study and in the years That's good news. If we at least maintain yields, we can take advantage of reduced runoff losses."
Nutrient availability
Despite its low water solubility, struvite is more soluble in citrate than MAP or DAP, making it available to plants
"Citrate is produced by the roots of crops by exudation. If you get a rain event, there will be minimal dissolution – 3% struvite. MAP will be more than 90% dissolved. But if you have a root present, the root is going to give off little acids like citrate, malic and the like, and those little acids will lead to dissolution," Margenot noted.
"There is a natural mechanism to synchronize dissolution when there is a crop root present. In terms of the 4Rs – good source, rate, time and place – you couldn't ask for a better mechanism that is driven by the root of the culture.