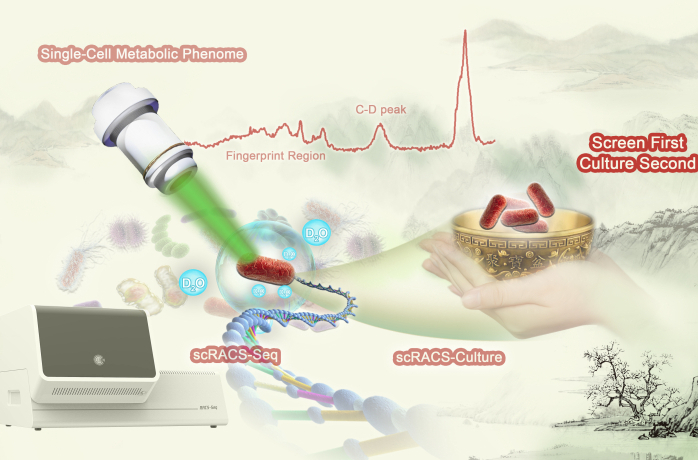 Raman-based single-cell tool developed for efficient extraction of living functional microbes from nature
Currently, the best way for scientists to isolate a specific microbe with a particular metabolic function from an environment is to take a sample of cells, culture them, and then screen them for the desired cell functions.
This method has several limitations. First, the scientists failed to identify most cells in nature, limiting the results to previously cultured cells. Second, the way cells behave in a test tube is not necessarily how they behave in nature or in situ. This can make it difficult to identify the right cell with the right metabolic functions.
Researchers from the Qingdao Institute of Bioenergy and Bioprocess Technology (QIBEBT) of the Chinese Academy of Sciences (CAS) have proposed a new technique called single-cell Raman-activated sorting and culturing, or scRACS-Culture, to find and harvest cells from the environment by first screening the cells and then culturing them.
The study was published in ISME Communications on October 30.
"Mining based on the function of nature's microbes has traditionally used a 'culture first, screen later' strategy, which has several limitations," said JING Xiaoyan, the paper's first author and lead engineer. of the QIBEBT Single-Cell Center. "Using phosphate-solubilizing microbes as a model, we introduced a 'screening-first' strategy called Raman-enabled single-cell sorting and culturing."
Using a new instrument called RACS-Seq, researchers demonstrated the feasibility of scRACS-Culture by extracting microbes for in situ solubilization activity of organic phosphates from an urban wastewater treatment plant. This shows a real use case for this technology, as these organic phosphate-solubilizing strains are highly sought after resources, as they can combat pollution of water bodies and soils, promote nutrient uptake of crops, improve fertilizer efficiency and reduce use. chemical fertilizers.
The researchers used the scRACS-Culture method to extract these cells directly from a wastewater sample, examining their metabolic rate when only organic phosphate substrates are available. They pointed out that such a culture-independent, "screen-first" strategy is advantageous in that it can screen all cells in a microbiome, instead of just those cells that can be cultured.
Additionally, this strategy can assess the in situ function of the cell, which is generally more relevant than the function of a pure culture in a test tube. It is also applicable to a wide variety of valuable metabolic functions of cells. "Because this technique can measure a wide range of metabolic phenotypes without a fluorescence probe, it should greatly expand the use of function-driven single-cell technologies in microbiome science and industries," said co-first author GONG Yanhai, research assistant at the Single-Cell Center of QIBEBT.
To improve the success rate of scRACS-Culture, they envision a strategy that releases the target cell's nutrient needs through the metabolic reconstruction of its single-cell genome. The knowledge can then be used to optimize the culture medium to transform these individual cells yet to be grown into cultures of valuable live bacteria, for animal and plant health and for environmental remediation.
Looking ahead, the team plans to further increase the scale and throughput of the technology, to efficiently extract 'probiotics' from a wide range of ecosystems, according to Professor XU Jian of QIBEBT's Single Cell Center, who led the study.
/Public release. This material from the original organization/authors may be ad hoc in nature, edited for clarity, style and length. The views and opinions expressed are those of the author or authors.View Full
here
.