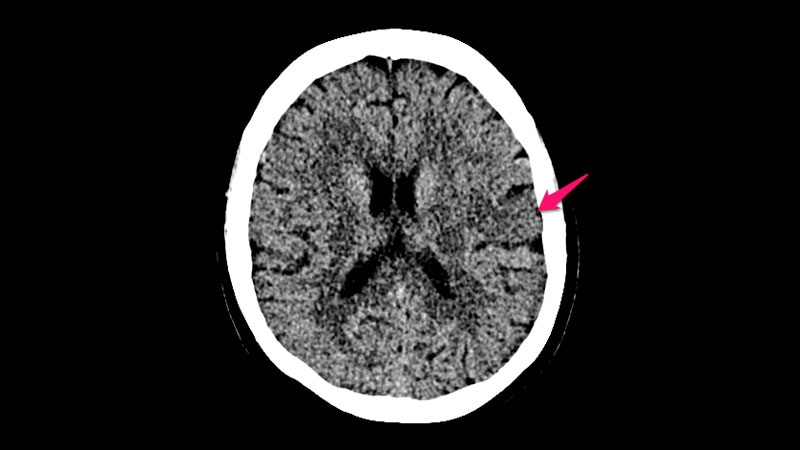 Patients with acute ischemic stroke and risk of refeeding syndrome
The study covered in this summary has been published on medRxiv.org as a preprint and has not yet been peer-reviewed.
Key points to remember
Patients with acute ischemic stroke (AIS) have a greater likelihood of developing refeeding syndrome (RFS) – fluid and electrolyte disturbances during refeeding after a long period of malnutrition.

RFS occurs as a result of an increased need for nutritional support for impaired consciousness and swallowing after stroke.

This study attempts to assess the occurrence, risk factors and outcomes of RFS in AIS patients.
why it matters
RFS can lead to failure of various bodily systems: respiratory, cardiac, hepatic, hematological and neurological. It can also cause death.

Enteral or parenteral nutritional support can induce RFS.

Malnutrition is common in AIS patients. These patients require nutritional support due to swallowing dysfunction, impaired cognition and consciousness, and increased metabolic needs. Therefore, AIS patients may have a higher propensity to develop RFS.

Reports indicate that RFS is significantly associated with poor prognosis by increasing the risk of mortality and continued disability, so it is of considerable importance to identify patients at high risk of RFS and undertake nutritional management. strict for AIS patients.

The main physiological feature of RFS is hypophosphatemia, and the diagnostic criteria for RFS were generally defined as new onset hypophosphatemia with a drop in phosphate levels >0.16 mmol/L to less than 0.65 mmol/L .
study design
Researchers retrospectively examined consecutive patients diagnosed with AIS requiring enteral or parental nutritional support who were admitted to the Stroke Unit of Guangdong Traditional Chinese and Western Medicine Hospital between January 1, 2019 and January 31, 2019. December 2021.

To be included in the study, patients had to meet the following criteria: (1) acute ischemic stroke demonstrated by diffusion-weighted imaging; (2) intracranial hemorrhage (ICH) ruled out by CT without contrast; (3) receiving enteral or parental nutritional support for >72 hours; (4) serum phosphate recordings before refeeding and at 72 ± 12 h after refeeding.

The study excluded patients if they met any of the following criteria: (1) incomplete data on nutritional intake; (2) over the age of 85 or under the age of 18; (3) serum phosphate

Informed consent from patients or the review committee was withdrawn due to the observational and retrospective characteristics of the study.
Principle results
Of the 1038 patients included in the study, 154 patients (14.8%) developed RFS. In this cohort, 684 patients were male (65.9%) and the average age was 64 years.

Risk factors for RFS in patients with AIS were National Institutes of Health Stroke Scale (NIHSS) Baseline, Nutritional Risk Screen 2002, Albumin 2.

Patients in the RFS group had lower NIHSS promotion at 7 days; RFS was independently associated with a 3-month mRS score > 2 and 6-month mortality.

Hypophosphatemia can worsen stroke outcome and can directly induce secondary neuromuscular injury or exacerbate neurological ischemia by reducing oxygen delivery to red blood cells. In addition, hypophosphatemia would cause respiratory muscle dysfunction and could potentially lead to respiratory failure.

Continued neurological disability and a higher risk of death ultimately occur due to all of these pathological changes.
Limits
This is a single-center retrospective study that excluded those lost to follow-up or without serum phosphate at 72 hours. However, the resulting selection bias and residual confounding may be partially offset by the prospectively collected database.

Some patients likely to have developed RFS after 72 hours were counted in the non-RFS group, which may underestimate the incidence of RFS.

Due to the small number of RFS patients, the authors did not perform a multi-subgroup analysis on various stroke subtypes and severities to clarify the prevalence and risk factors for RFS in AIS patients. .

A prospective, randomized cohort study would be needed to confirm the results.
Study Disclosures
This is an abstract of a preprint research study, "Risk Factors and Outcomes of Refeeding Syndrome in Patients with Acute Ischemic Stroke", authored by Shumin Chen of Traditional Chinese Medicine Hospital and Western Integrated Guangdong, Affiliated Hospital of Guangzhou Traditional Chinese University, on medRxiv is brought to you by Medscape. This study has not yet been peer reviewed. The full text of the study is available at medRxiv.org.
For more news, follow Medscape on Facebook, TwitterInstagram and YouTube.