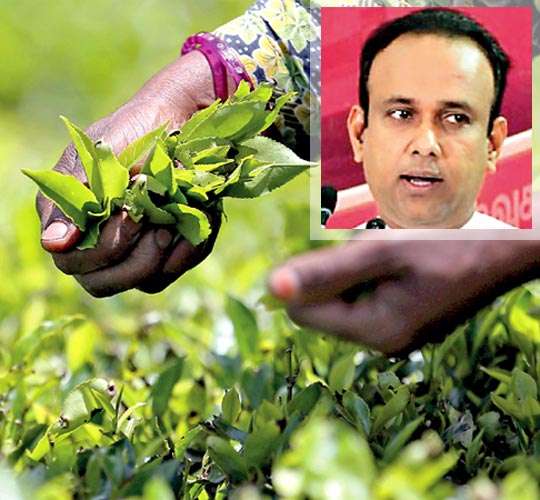 Last minute lifeline for tea | Daily FT
---
100,000 tonnes of ammonia sulphate for the tea industry in 6 weeks
Plantation Industries minister says move is just short-term relief to protect tea industry
Ministry conducts adaptation trials with TRI to find sustainable solutions
Department Secy. points to lack of capacity as a major obstacle to meeting demand
---
By Charumini de Silva
---
Minister of Plantation Industries Dr. Ramesh Pathirana
---
The besieged tea industry must get a last-minute lifeline with the import of a critical source of nitrogen, albeit on a temporary basis, amid a ban on chemical fertilizers that has threatened crop yields and crops. export income.
Plantation Industries Minister Dr Ramesh Pathirana yesterday confirmed to the Daily FT that 100,000 tonnes of ammonia sulfate (SOA) would be imported to support the tea sector, which earns $ 1.3 billion in foreign exchange, and who is reeling from the sudden and random ban on chemical fertilizers.
"It has been decided to import SOA as the best source of nitrogen to be used by the tea industry," the minister told Daily FT, adding that said amount would be available within the next six weeks.
The tea industry has been waiting for many months without nitrogenous nutrients for its plantations and nurseries, as authorities have been slow to decide between SOA and nano nitrogen fertilizer.
Before the government's political decision to ban chemical fertilizers, the tea industry imported around 200,000 tonnes of urea-based fertilizer.
The minister noted that the decision to import SOA was only an interim relief measure to protect the tea industry until authorities were able to settle on a fertilizer solution. sustainable organic.
"This measure only serves to control the situation in this period of transition," said Dr Pathirana.
Plantation Industries ministry secretary Raveendra Hewavitharana said they were conducting adaptive trials with support from the Tea Research Institute (TRI).
There are 39 companies that make organic fertilizers and 18 specialize in producing nutrients for tea – 10 of which are now doing adaptive research to find solutions to meet micronutrient demands in the tea industry.
"The purpose of applying organic fertilizer is not to condition the soil, but as a sustainable nutrient for tea plants and nurseries," he explained.
Hewavitharana pointed out that despite the know-how and technology, most of these companies do not have the capacity to meet demand. He noted, however, that Sri Lanka had sufficient nutrients of dolomite and phosphate for the tea industry.
The Ceylon Planters Association (PA) recently urged the government to immediately take a sensible move to save the industry and the economy.
He said the cost of fertilizers was only 2% of the total revenue from tea exports. "We spend around $ 30 million to import fertilizers, but we earn at least $ 1.3 billion," the Palestinian Authority said.