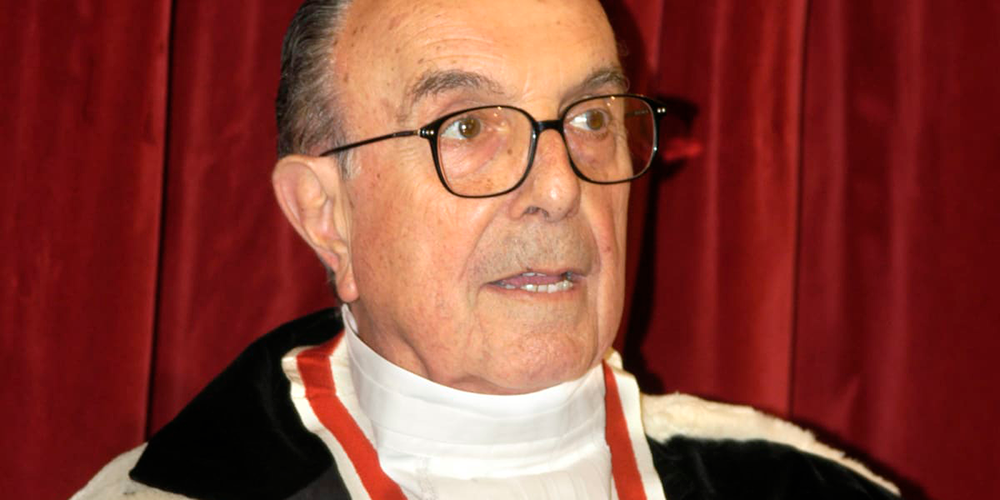 In memoriam: Sandro Pontremoli
Sandro Pontremoli, former rector of the University of Genoa and honorary member of the American Society for Biochemistry and Molecular Biology since 1984, died in June 2021, the ASBMB learned recently. He was 95 years old.
Born January 20, 1926, in Ferrara, Italy, Pontremoli earned a degree in medicine and surgery at the University of Genoa in 1949. He became an assistant at the university's Institute of Physiology where his research focused on the metabolism, lipids and the role of the pancreas.
In 1957, Arturo Bonsignore invited Pontremoli to join the Institute of Biochemistry in Genoa. Bonsignore had studied the enzymes of glycolytic metabolism and became interested in the recently discovered pentose phosphate pathway, which was found to generate NADPH for reductive cell biosynthesis and convert 6-carbon sugars into pentoses, or 5-carbon sugars. , for the synthesis of nucleotides. and nucleic acids.
Bonsignore sent Pontremoli to the National Institutes of Health to work with Bernard Horecker, the biochemist who had discovered this new metabolic pathway. (Horecker was a member of the ASBMB from 1947 until his death in 2010, and his work on the pentose phosphate pathway has been the subject of a 2005 Centennial Classic in the Journal of Biological Chemistry.) This trip to the United States marked the beginning of a collaboration that lasted decades, with the two researchers traveling back and forth to each other's laboratories. Pontremoli accepted a full professorship at the University of Ferrara in 1963, then returned to Genoa seven years later. He extended his work to the study of proteases.
In addition to his research, Pontremoli worked to modernize biochemistry in Italy. He was elected Rector or Academic Director of the University of Genoa in 1990 and held this position for 14 years, opening dialogue with municipal and regional authorities and helping to establish the Italian Institute of Technology. He was a member of the Accademia Nazionale dei Lincei, a venerable European scientific institution in Rome, for 30 years.
Giorgio Parisi, president of the Accademia, said an obituary writer (in Italian), "In his long career, (Pontremoli) lived as a protagonist of the glorious biochemistry of the pioneers who discovered the fundamental metabolic pathways, with a brilliant intuition strongly linked to chemical knowledge."