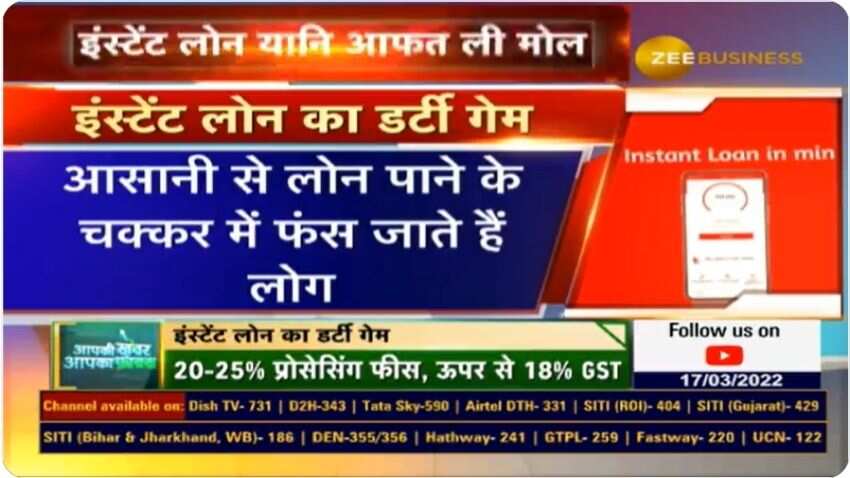 Despite RBI Restrictions, Loan Apps Continue Their Dirty Instant Loan Games – Full Report!
The Reserve Bank of India (RBI) had issued rules against extortion from fake lending app companies in June 2020. Later, a task force was also formed on the same subject whose draft report has been received but the final rule has not yet come. Despite this, the instant loan dirty game continues. The number increases considerably. Zee media report.
How do these fake apps give instant loan?
To grant a loan, these applications ask for a copy of the 3 month bank statement, a photocopy of the aadhar card and a PAN card of the client. After receiving the documents, they issue a loan within minutes. Sometimes loans are granted even when these documents are not available. Most of the time, these apps have no connection with any bank or NBFC.
How is this week's salvage company trapping customers?
In fact, these companies appeal to customers for their good track record. And sometimes promise to grant a loan up to Rs 50,000 on the application within a minute without any proof of income. As soon as the customer downloads their mobile app, these people have access to all of that customer's personal information, contact details, and photo galleries.
Why do people fall into their trap?
A person struggling with the lack of money does not read all the articles or ignores it even after understanding it. And that's where the extortion game begins.
Instant loan application fees
Instant loan companies charge an annual interest of 36% to 50% and also impose heavy penalties daily for not repaying the loan on time. Sometimes it goes up to 50% of the loan amount. These companies also charge a 20-25% processing fee and also levy 18% GST. For example, if someone has taken a loan of 12,000 rupees, he will receive 10,000 rupees in hand.
What happens in case of delay in the repayment of the loan?
If there is a late payment, it is not known when the amount doubled by adding the penalty and interest. Delays in loan repayment lead to an endless cycle of intimidation and exploration. This includes defamation on social media and sending obscene messages to people on the contact list.
The Reserve Bank has warned people against such cases of increasing exploitation. Customers should never give a copy of a KYC document to a foreign agent or application that is not associated with NBFC or a bank to provide loans.
For more details, watch the full video here:
RBI ीी्ती केब भीचलूलूलूटममममममममममममममममतततत उतउते त पप तत उतउते ीी#AapkiKhabarAapkaFayda की ये खास रिपोर्ट#ReadyInstant | #RBI | #MoneyLendingApp | @AnchorDeepak_ pic.twitter.com/hztkFX3I2C

— Zee Business (@ZeeBusiness) March 17, 2022