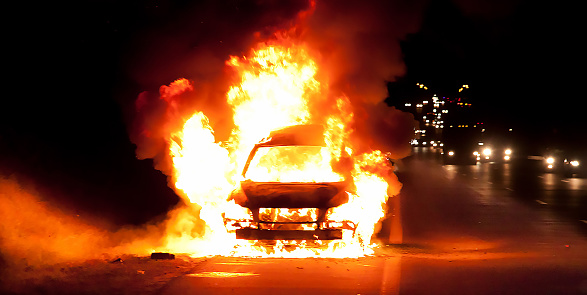 Chinese drivers blow themselves up driving faulty cars amid heatwaves
A heat wave has engulfed Europe and other countries around the world. China is also experiencing unprecedented levels of heat waves.
China Meteorological Administration last week Published intense heat warnings for nearly 70 Chinese cities, where temperatures are expected to exceed 40 degrees Celsius (104 degrees Fahrenheit). The administration also warned that the temperature in 393 other Chinese cities and counties would reach 35 degrees Celsius (95 degrees Fahrenheit) or even higher.
The record heat wave caused a high number of fires and spontaneous explosions of automobiles. He exposed the safety issues of the nascent electric vehicle industry in China.
Chinese vehicles explode
On July 24, in Fuzhou, Jiangxi, a private car that was parked on the side of the road suddenly caught fire. Videos To display how the car door and glass fragments were thrown into the street, almost hitting a pedestrian.
Additionally, on July 23, two others car fires were reported in Yibin, Sichuan and Zhongshan, Guangdong. The cars suffered significant damage.
According to Chinese media, high temperatures and heat waves have had a much greater impact on Chinese electric vehicles than on fossil-fuel vehicles. In China, there have been several cases of electric vehicles spontaneously exploding into pieces, spanning different makes and models.
Recently, the first quarter of 2022 data released by the Ministry of Emergency Management's Bureau of Fire and Rescue showed that 19,000 cases fires and explosions in vehicles were reported, a year-on-year increase of 32%.
Substandard Chinese Electric Vehicles
China has long pursued its electric vehicle ambitions and aims to dominate the world with its pool of budding companies. The Chinese company BYD has even fallen Tesla as the nation's largest electric vehicle maker. BYD, NIO, Skywell, Aiways and Hozon have become the largest electric vehicle companies in China. These companies have actively sought to expand their business overseas.
Zhang Xiang, dean of the New Energy Vehicle Technology Research Institute of Jiangxi New Energy Technology Vocational College told "Securities Daily," "Current new energy vehicle safety issues mainly revolve around the combustion spontaneous, fire or explosion of the battery.Whether the battery can guarantee safety when deformed or squeezed is the key.
A Chinese company, CATL, whose value is greater than that of General Motors and Ford combined, is already under surveillance that the technology he uses causes car fires. Beijing has provided CATL with generous subsidies and flexible regulatory treatment, allowing it to design significant EV technology. CATL delivers electric batteries to the majority of these Chinese companies.
Read more: Japan's EV war on China: Toyota to flood Chinese markets with affordable cars from next year
At the recent 2022 World Battery Electric Conference, Sun Jinhua, a senior scientist of China's "937" plan and an academician of the European Academy of Sciences, said that judging from the state of burning electric vehicles , 35% are in charge of the State, 40% are able to drive, and 25% are in a steady state. Jinhua added that lithium-ion batteries are accident-prone.
According to Sun Jinhua, ternary lithium batteries have a higher burn rate than lithium iron phosphate batteries. According to accidentology data, ternary batteries account for 60% of new energy vehicle accidents, while phosphoric acid accounts for 5%. BYD and many Chinese automakers are banking on traditional lithium batteries.
CATL and Chinese companies like BYD use substandard batteries, which shows the pitiful state of power battery technology in China. Chinese companies are eager to capture the global electric vehicle market. However, the growing cases of Chinese vehicles exploding on the roads could keep potential buyers away forever.