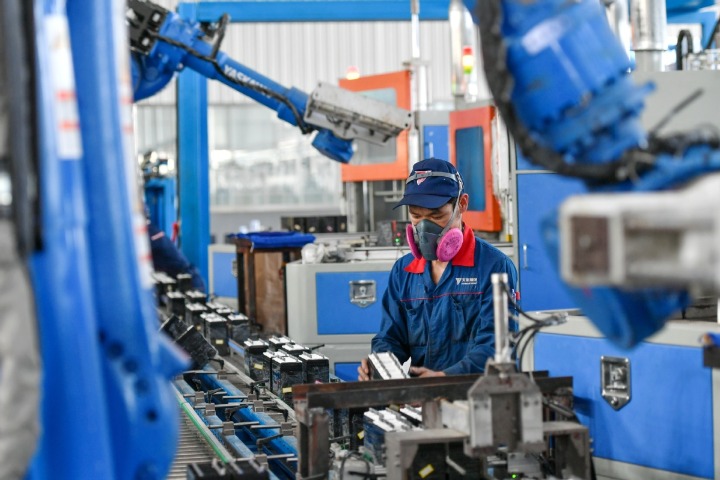 Battery players spend big to secure supplies
Domestic manufacturers redouble their efforts to further exploit growing demand for NEV
Chinese battery materials producer Zhejiang Huayou Cobalt Co Ltd on Wednesday said it will acquire a lithium mining company in Zimbabwe for $ 422 million, marking a new foray into overseas battery mineral resources by companies Chinese companies that are increasing their supplies to meet the growing demand for new energy vehicles. Marlet.
The company has announced that it will acquire an 87 percent stake in Prospect Lithium Zimbabwe Ltd for $ 378 million from Prospect Minerals Pte Ltd, a subsidiary of Prospect Resources Ltd, an Australian listed company, and will pay 44 , $ 2 million for the remaining 13 percent to the other two players.
Prospect Lithium Zimbabwe owns Arcadia, a Zimbabwean lithium mine that is said to have reserves of 1.24 million metric tonnes of lithium carbonate equivalent as of October.
The main industrial use of lithium carbonate is to produce rechargeable batteries for NEVs. The price of the material has climbed 238.3% since the start of this year through Nov. 19, according to a report from S&P Global Platts, a provider of information, benchmarking and analysis for the world's markets. energy and raw materials.
"The surge in prices is the result of the overall increase in raw material prices, as well as a tight supply and growing demand for battery materials, driven by the growing need for NEV. This has caused a frenzy of overseas mining investment from lithium companies and battery manufacturers, "said Lin Boqiang, director of the China Institute for Energy Policy Studies. Xiamen University in Fujian Province.
Lithium resources in China, although abundant, exist mainly in salt lakes and require complicated processes to be extracted. As a result, lithium carbonate and other lithium salts are highly dependent on imports.
To better control the costs of raw materials, many Chinese lithium companies and battery manufacturers choose to directly acquire lithium mines abroad.
The S&P Global Platts report says China's lithium industry has seen demand for NEV increase as the country focuses on meeting its carbon targets.
NEV's production and sales in China in the first 11 months reached 3.02 million and 2.99 million units, up about 167.4% and 166.8% year-on-year respectively, a reported the China Association of Automobile Manufacturers.
Huayou Cobalt is not the only company actively expanding its global presence to secure materials supplies. Chinese lithium giant Ganfeng Lithium Co, located in Jiangxi province, announced in June the acquisition of 50% of the shares of the Dutch company SPV Co, whose subsidiary Lithium du Mali SA owns a spodumene project called Goulamina in Mali, Africa. Spodumene is a mineral containing lithium.
The acquisition of Ganfeng Lithium follows the purchase of several lithium projects inside and outside the country. In May, the company's Shanghai subsidiary announced the takeover of London-listed mining company Bacanora Lithium, whose major asset is a lithium clay project called Sonora in Mexico. It is one of the largest lithium projects in the world with an estimated reserve of 8.82 million tonnes of lithium carbonate equivalent.
In March, Ganfeng Lithium and its subsidiary in Qinghai province announced the acquisition of investment and consultancy firm Ili Hongda, located in the Xinjiang Uyghur Autonomous Region and a stakeholder in a lithium project in the basin. of Qaidam.
Companies such as Zijin Mining and Chengxin Lithium have also reportedly stepped up their investments in global lithium mining assets.
A report from Cinda Securities said downstream companies are starting to source materials for ternary lithium batteries and lithium iron phosphate batteries as the end of the year approaches. This will likely further increase demand and prices for lithium.